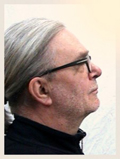 My name is Gerold Bursian. I am a painter.
I have received my education in the painter on the State Academy of Fine Arts in Karlsruhe. There I studied under the professors Herkenrath and Georg Meistermann painting and pressure graphic arts. With Meistermann I was also made in the " monumental painting " in practice close. With professor Klemm I have still learnt, in addition, some semestres to works as an artistic discipline and in this field have filed a final examination. The last two semesters I studied as a master student in the professor Meistermann class and graduated after six years with this title from my studies .
Then I taught for several years at a GHS drawing and works .
Since the end of my studies (1972 ) I exhibit my work .
I was always keen to expand the range of my artistic work .
Since the mid- 90s I was able to put my pictures using a computer software into sound elements .
These sound elements were then arranged and edited by me . These " electronic sound compositions " I work until today. Some sound compositions have been broadcast on the radio . In addition, I am concerned with " sound visualization " , so shapes and colors that respond to the sounds . This combination between painting and sound compositions has been shown several times in exhibitions. Videos and photographs are further areas of work that I have developed since the mid- 90s .
______________________________________________________________________